We provide Motion Control, Fluid Power and Mechanical Systems Design and Consulting Service to the Oil & Gas, Marine, Pulp & Paper, Forestry, Construction, Mining and Heavy Industry. The following is a summary of the services Hyflodraulic Limited provides:

Our Distribution
Distribution of specialized products, equipment, technical service and support to the mining, oil and gas, construction and energy sectors.
Distribution of Project Specific Fluid Power and Motion Control Products.
Hydraulic Engineering Services
Hyflodraulic Limited built its name on hydraulic design, service and supply.
Although our portfolio has grown over the years to include many different technical services and specialized products, we take pride in having as one of our competencies the ability to provide the most accurate hydraulic system service in the industry today.
When it comes to hydraulics, no challenge is too big or complex that we cannot provide the technical expertise needed.
Hydraulic Consultancy and Engineering
We provide engineering back up services to any ongoing project. If a specific requirement for detailed engineering for change or efficiency modification is identified then that can be accommodated through engineering services from our Mount Pearl, NL office.
Hydraulic Maintenance
Prior to requirements for the start of a contract we gather the system information from project records. From this we establish contacts with system vendors and equipment suppliers to establish contacts if required.
Technical Documentation and Work Packs
Systems Design and Drafting Service
Assessment Management
For other Hydraulic maintenance contract clients we have established spare and consumables stockholding which are held at our facility. Holding spare is established through a criticality study between Hyflodraulic Limited and the client.
Personnel Availability
We establish a maximum call out time and client is given access to 24 hr, 7-day call out service for technical support both onshore and offshore. This includes:
Onshore Engineering
Onshore and offshore technical personnel, both at supervisory and technician level
Onshore and offshore test and certification facility.
Equipment Availability
Hyflodraulic Limited has the largest available complement of Hydraulic testing, hydro-testing, hot oil flushing and certification equipment in Atlantic Canada. This is available for use offshore or onshore for all our clients with our equipent inventory being stored at our facility.
Quality Control
Hyflodraulic Limited operates to ISO 9001:2008 quality control system standards in order to ensure that all aspects of our business are carried out to an acceptable quality standard. All of our personnel are subject to ongoing training to ensure that we constantly improve our quality standard.
Hydraulic Cylinder Repairs & Manufacture
Hyflodraulic Limited has only "TUXCO" Cylinder Servicer in Atlantic Canada with capacity of 25,000 lbs tq couple that with out complete machine shop facilities and Micromatic Honing Machine, we can custom manufacture cylinders to our customer requirements and specifications. Complete with in-house welding and fabrication.
Field and Diagnostic Equipment
Coupled with our team of technicians and service engineers, Hyflodraulic Limited maintains an extensive inventory of test, diagnostic equipment and tooling for in house and field service of components and systems.
System Installations and Pre-Commissioning
Hyflodraulic Limited provides complete tubing installation service. This service includes the provision of:
Materials
Personnel
Equipment
Tooling
We offer turnkey pipe work projects and commissioning services that include, but are not limited to:
Hydrostatic testing
Hot Oil flushing
Retro-jetting
Chemical cleaning
Bolting, Tensioning and Torquing
All test and laboratory equipment is calibrated to industry standards and complete documentation is provided with site certification.
Project Commissioning
Preparation of required commissioning procedures:
For previous projects we gather the required information from project records as well as complete an onsite assessment. From this information we prepare full project commissioning procedures by System of Part System.
These procedures take into account the requirements for completion of the following items:
Project or Client function test certification or Mechanical Completion certification.
Required Pre-Commissioning requirements for both packaged equipment and site installed system. This will include as required ensuring the completion of hydro-testing, chemical cleaning, hot oil flushing and certification. Ensure that this is completed in accordance with the required client and industry standards.
Requirements of packaged equipment suppliers for mechanical completion including liaison with sub vendors to ensure that their requirements for presence on site is co-coordinated.
Ensuring that the system is function-tested hydraulically to the full load requirements that it would see in service.
Ensuring that the system is fully tested operationally and to the requirements of the original equipment vendors, operators and third party certification authority.
Supply of personnel required for project completion:
These personnel to include as required:
Site Superintendent / Co-coordinator
Site Supervisors
Lead technicians for package completion
Site or base engineering personnel as required
Supply of equipment required for project completion:
Calibrated hydraulic test equipment
Hydraulic flushing equipment
Site Laboratory for cleanliness certification on site
Hydro-test equipment
Retro-jetting units
Chemical cleaning equipment
Bolting, Tensioning and Torquing
Pressure Vessel/Accumulator Re-Certification
Recertification and Installation of Accumulators for Husky Energy, Hibernia Management Development Company, and Transocean Newfoundland & Labrador
Hyflodraulic Limited has extensive experience in the rebuilding and re-certification of Hydraulic Accumulators used in various systems, we have developed procedures utilizing API 510, ASME VIII, Div.1, CSA B51 inspection specifications in conjunction with the UK Pressure Systems Safety Regulations 2000 Directive, our capabilities include Hydro-testing up to 25,000 psi, Nitrogen Boosting up to 15,000 psi, Flushing to NAS 1638 specifications and Volumetric Expansion Testing. DNV, Lloyds, CSA.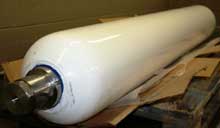 Hose Management Program
Hyflodraulic Limited has been providing Hose Integrity Management Service to our customers since 2001. As an active participant in the Oil and Gas industry Hyflodraulic Limited maintains the implementation of the UKOOA Flexible Hose Management Guidelines. Hyflodraulic Limited is proactive and a local leader for this service, adopting these guidelines as standard practice across all the industries we serve.
We offer a complete Hose Integrity Management Service through the lifetime of all hose assemblies within the inspection area ranging from design, installation, preventative maintenance & replacement / disposal. Hyflodraulic Limited recognizes the criticality of leakages to the safety, environmental and operational performance of customer sites. Through a combination of our high quality products, competent personnel and a planned inspection and testing regime we can reduce the potential for leakages. Hyflodraulic Limited has over 29 years of experience designing, modifying and supplying a vast range of products and services. In particular Hyflodraulic Limited's technical team can offer technical support in the following key areas:
Specifying new products or reviewing existing product specifications to improve operational performance.
Product failure investigations either at our onshore facility or offshore as part of any investigation team.
Engineering and Designing specialist high pressure components to satisfy exact and operationally demanding requirements. Should a non-standard item be required Hyflodraulic Limited can rely on strong relationships developed with internationally renowned suppliers through our supply chain management to secure fast track deliveries within short lead-times.
Hydro Testing, Chemical Cleaning, Passification and Flushing
We provide technical and engineering support as well as qualified technicians and all applicable test and diagnostic equipment. We can also provide the generation of operational procedures including the handling and safe work practices of chemicals, drawings/schematics and risk assessments, as well as determining manpower and equipment requirements, scheduling and utilization for all Hydro Testing and Chemical Cleaning needs.
We also participate in client meetings, conduct site visits/surveys to assess the scope of work and the necessary requirements to successfully complete the project, in a safe and productive manner. This includes implementation and adherence of all client and company health and safety policies regarding operational activities chemical use and handling.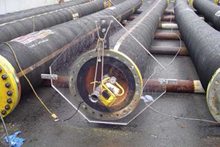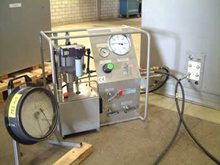 We supply all applicable equipment, trained technicians and technical expertise to meet and exceed customer expectations and industry standard requirements (i.e. ASME, API, CSA).
We also offer equipment and tools such as hydraulic pumps, hydraulic test units, accumulator filling set, filtration units, tensioning and torquing units, etc. all operated by qualified Hyflodraulic Limited personnel and can be contracted for, but not limited to, the following fields of work:
Installation and start-up
Commissioning
Maintenance
Repair and modification work
Torque and tensioning measurement
Upgrade / Extension activities
Hydraulic Power Unit
Hyflodraulic Limited has over 29 years of experience designing, efficiency modification and supply of a vast range of Hydraulic Power Units conforming to NFPA, JIC, SAE, ANSI standards in both carbon steel and stainless steel configuration, standard NEMA 4 electrical rating or explosion proof rating conforming to various industry standard instrumentation and Control Systems as per customer's requirements.
HPU can be designed and rated for offshore transportation and use to DNV or Lloyds standards.
Instrumentation & Maintenance Services
Hyflodraulic Limited Instrumentation Technicians are involved in the automation production of various systems. Complex process control and measurement systems such as those found in the oil and gas industry, chemical plants, mineral metallurgic processing, food processing operations, and the pulp and paper industry require sensitive and accurate instruments.
Recent technical developments in measuring and controlling process variables such as pressure, temperature, flow, and composition have increased the quality of products and have reduced operating costs. Today conventional pneumatic and electronic controls are being rapidly augmented or replaced by computer-based systems and we are proactively leading and increasing our knowledge and expertise in line with current industry needs and advancements.
Assess and Repair Mechanical Systems and Components
Prototype Systems Design and Consulting.